Centre of the Universe (Chiang Mai) Company Limited
GPS Decimal Degrees
Latitude     18.8190041029755
Longitude  98.9575682580471
Degrees, Minutes, Seconds
Latitude      18°49'8.415″N
Longitude   98°57'27.245″E
source: latlong.org
Centre of the Universe (Chiang Mai) Company Limited
Chiang Mai Swimming Pool and Resort
Soi 4a, Mae Khua Mung Road
Chang Khian
208/9-10 Moo 1, Tambon Chang Phuek, Amphur Muang Chiang Mai 50300
Office Telephone:
+66 (0) 53 327 808
Mobile Telephone:
+66 (0) 85 036 8030
Email: info@therealcentreoftheuniverse.com
Click anywhere on the interactive map below to find your personal route to the Centre of the Universe by keying your current location into the first line of the search bar viz "Choose starting point or click on the map."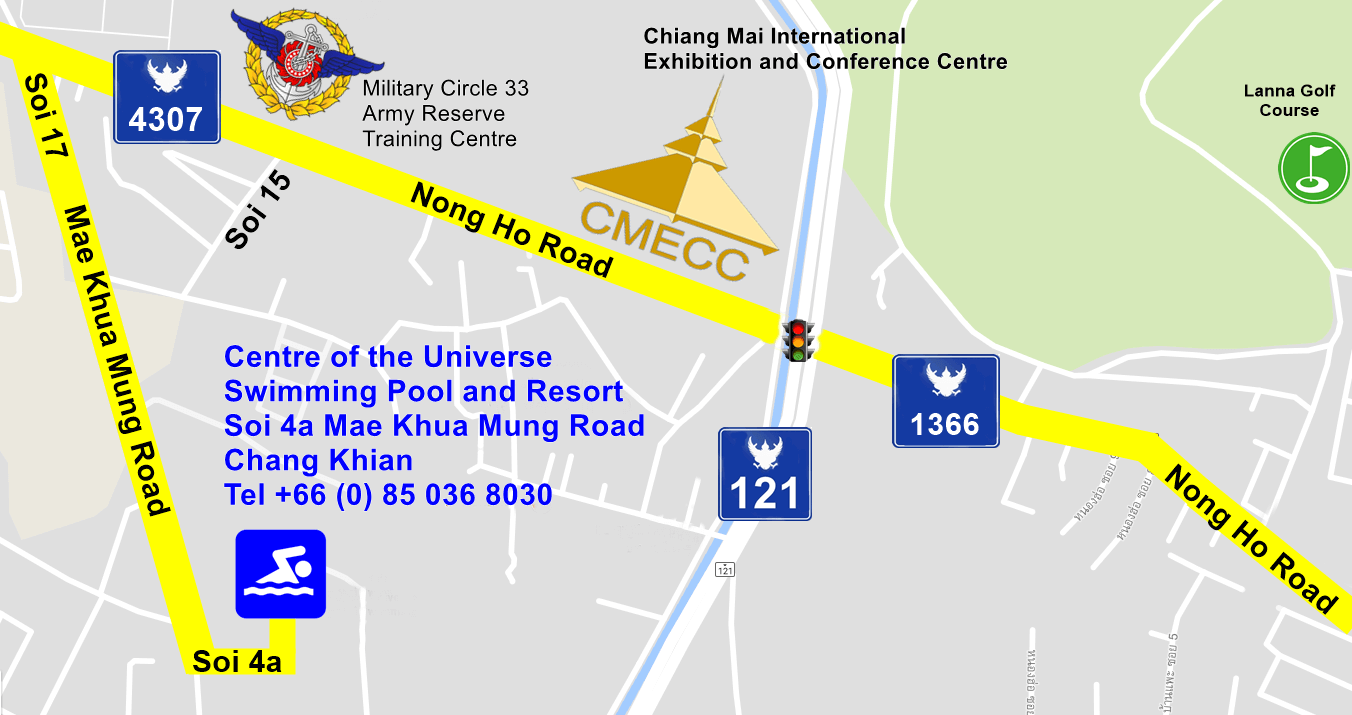 Our nearest major landmark is Chiang Mai International Exhibition and Conference Centre (CMECC) which should be as familiar to taxi drivers as asking to be taken to the airport, railway station or Arcade bus station
The Convention Centre is located at the intersection of Highways 121, 1366, and Rural Road 4307
Large overhead gantries bear the following sign on all approach roads to the Convention Centre.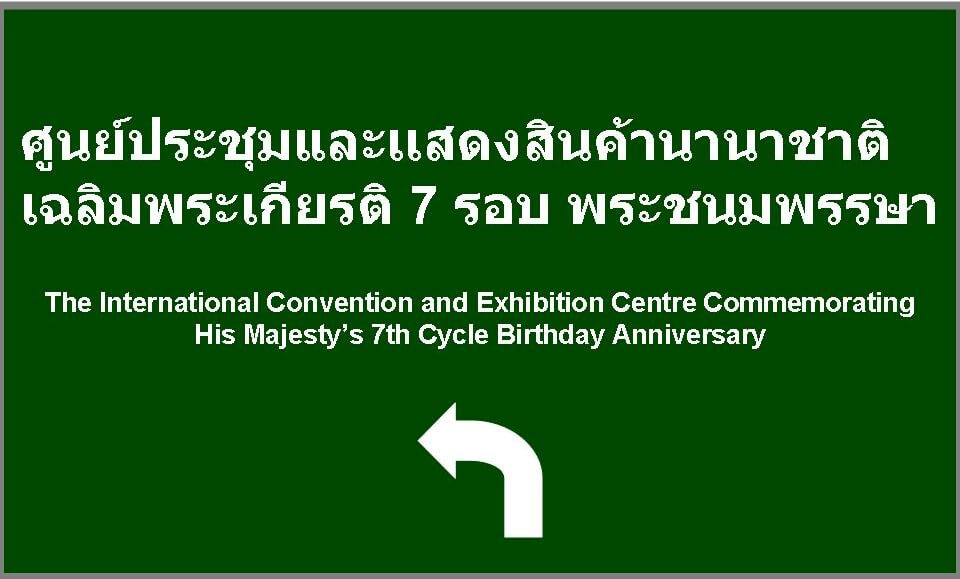 From Chiang Mai city, there are two main routes to the Convention Centre



1) Highway 107,

which starts at Chang Phuak Gate and is signposted to Mae Rim.

a) At the intersection of Highways 107 and 1366 turn left following signs to the Convention Centre.
b)  At next traffic lights, go straight.
c)  Highway 1366 becomes Rural Road 4307, Nong Ho Road.
d)  Convention Centre is on the right.
e)   Go straight on Nong Ho Road, passing Parking Lot Gates 3 5 8 and 9. 
f)  Slow down after passing the entrance to the Army Camp (on right).
g)  Turn left into Soi 17 – take care as for the first 20 meters the road is narrow
h)   Soi 17 becomes Mae Khua Mung Road.  A large road sign on the right hand side reads Chang Phuak Municipality and next to this is the road sign "Mae Khua Mung Road" 
i)   Continue on Mae Khua Mung Road and look for a signpost "Sang Serene House" which is located in Soi 5, on the right hand side of the road
j)  Continue along Mae Khua Mung Road, but slow down after seeing the sign for Sang Serene
k) Take the next left turn into Mae Khua Mung Road Soi 4a, which leads to the swimming pool.
Soi 4a is the second road on the left after turning into Soi 17.  All other left turns lead to private housing.
2) Highway 1004

which starts at the North West corner of the moat around the city.
a) The first major intersection is with Highway 11, known locally as "the superhighway"
b) Maya Shopping Mall is located at this junction.
c) Continue on Highway 1104 until reaching the intersection with Highway 121
e) Turn right at this junction, known locally as Phucome Hotel Intersection.
f)  Continue North on Highway 121, and turn left at second traffic lights
g) Follow the instructions above from 1 (e) through 1(l)