Guesthouse and Swimming Pool Chiang Mai
1 km from Chiang Mai International Convention and Exhibition Centre (CMECC)
Swimming Pool Closed Monday – Friday 12th – 16th April 2021 during Songkran Festival

Services
Accommodation | Restaurant | Bar | Swimming pool and gardens open to non-residents | Swimming lessons | Tour guide | Birding tours
Overview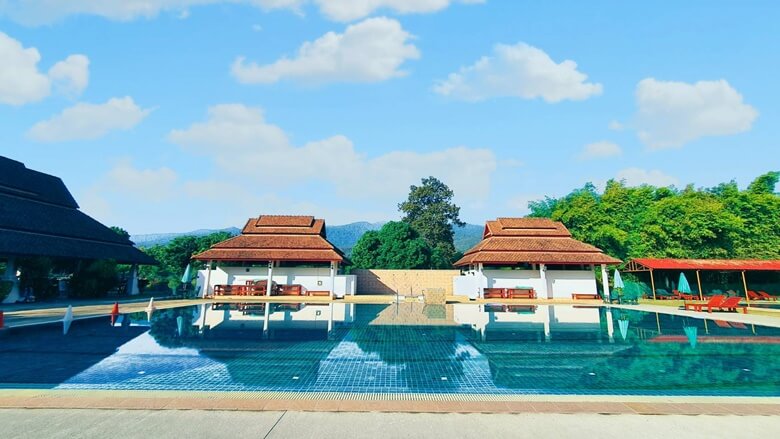 The Centre of the Universe Chiang Mai Swimming Pool and Resort is a private swim club and also offers accommodation for tourists and other visitors. Nestled in the foothills of Doi Suthep mountain range, and surrounded by orchards, the Centre of the Universe is the perfect place to stay and swim in Chiang Mai.
We offer accommodation, restaurant and bar, swimming club membership for Chiang Mai residents, temporary membership for tourists and visitors, swimming lessons, licensed tour guide, and birding tours for resident guests.
Accommodation
There are three detached Thai-style bungalows set in two acres of secluded gardens.  Residents enjoy free access to our half-Olympic sized salt water pool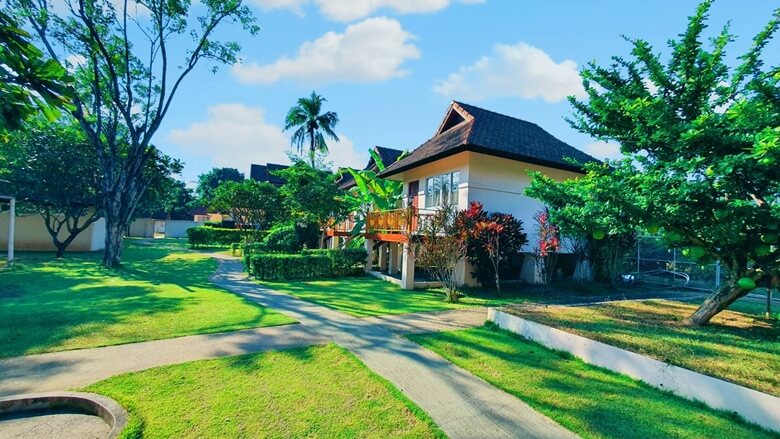 Swimming Pools
The main pool is 25 metres long x 16 metres wide.  The depth of the pool ranges from 1 metre at the shallow end and 1.6 metres at the deep end.  There are two children's pools.
Swimming pools open from 7:00 am until 7:00 pm, 7 days a week, 350 days of the year. Click on the tab "Pool Hours and Entrance Fees" for a complete list of scheduled closures
Temporary Membership

Temporary club membership for those staying in hotels, guest houses, and other accommodation without a swimming pool
Location
6.5 km (4 miles) from the city centre, the resort has one of the few salt water swimming pools Chiang Mai provides.
Restaurant and Bar
Our open air Restaurant and Bar provides welcome respite from the mid-day sun and offers a tempting range of food and drinks
Accessibility and Parking
Easy access for wheelchair users from the car park to the pool, with specially designed changing/toilet facilities. We are featured on Access Thailand – a website devoted to listing Thailand's tourist meeting the needs of those who are physically challenged.
Large car park (30 cars + motorcycles)
Recommendations
Centre of the Universe Swimming Pool and Resort is recommended by Nancy Chandler's Guide to Chiang Mai and featured by the internationally acclaimed Swimmer's Guide
Centre of the Universe (Chiangmai) Co. Ltd. is licensed and registered in Chiang Mai, Northern Thailand.


Swim, sunbathe and relax at our Guesthouse & Swimming Pools Chiang Mai! (Panoramic view of landscape)

Centre of the Universe (Chiangmai) Company Limited Chiang Mai Swimming Pool and Resort
Soi 4a, Mae Khua Mung Road, Chang Khian Village
Office Telephone:   +66 (0) 53 327 808
Mobile Telephone:   +66 (0) 85 036 8030
E-mail: info@therealcentreoftheuniverse.com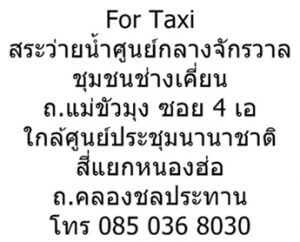 Registered domains
TheRealCentreOfTheUniverse.com
ChiangMaiSwimmingPool.com
SwimmingPoolChiangMai.com